TBT #15: Ditch the Textbook
Creation, innovation, and takeovers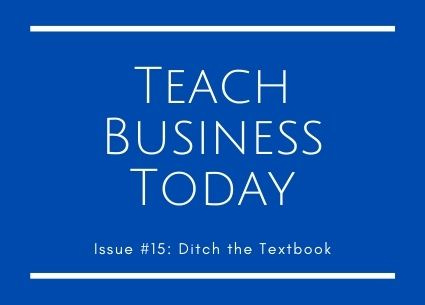 Where can you find the best resources for your students?
Teachers relied on textbook recommendations for too long. We need to get to the front lines of the topics we're teaching and learn from those who experience it daily.
A Google search will give you results. But there's a better place to begin.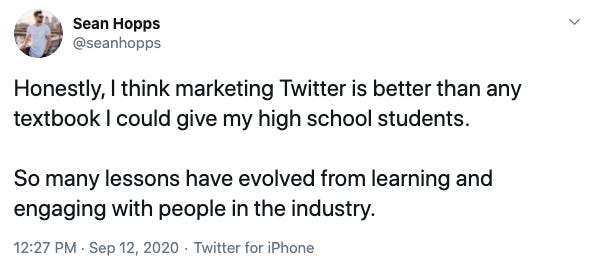 Click the above tweet to see some responses and recommendations from people in the industry. I promise you'll find a ton of value from it.
Now, onto this week's ideas.
---
Why?
Ask your students what they thought of remote learning. I guarantee the majority of responses won't be positive.
Developing alternatives to a real-world setting while still working from home can alleviate some of the stress and discomfort of being in that environment.
By introducing this article, students can see that adults are missing the physical work environment. However, there are innovators looking to create a new space where the physical office can be replaced by a digital option.
It can also give them ideas on how education can shift as well.
Discussion Points
Are the cost savings more important than the benefits of a physical work environment?

What would be the advantages/disadvantages of a digital classroom environment versus learning through Zoom/Meet/Teams?

How important is the separation between home and work/school to you?
Assignment Idea
In large groups, have students draft a mock virtual classroom using the elements discussed in the article.
This should spark conversation amongst groups as they weigh the importance of certain features, such as the inclusion of VR, distractions of others talking, and the ability to work with others.
Although this will all be hypothetical, it could be the starting point for creating the newest learning management software.
Why?
Video games are shifting from discs to downloads.
Microsoft's focus on digital downloads created a console that is more affordable for consumers without major limitations.
This should appeal to students as it sparks competition between the major players in the video game industry. Microsoft offering a low-cost console should force Sony to do something to ensure they don't lose market share.
It also opens Microsoft up to a target market that couldn't justify spending $500 on a console but may have the means to afford the Series S.
Discussion Points
Do you believe that purchasing physical video games will become a thing of the past? Could they follow the life cycle of vinyl? Why/why not?

Would a lower-cost console sway you to switch from Playstation to Xbox? How do you think this decision will impact others who don't have loyalty to a certain brand?

Do you believe mobile gaming will replace console and PC gaming?
Assignment Idea
Have students work in a large group to conduct market research on console pricing.
I plan to get my students to go to other classrooms to see what the rest of the student body thinks of the cheaper Xbox model and whether or not it will sway them to purchase it.
Students can create the market research questions, facilitate the survey, then analyze the responses to identify takeaways on which groups are or aren't willing to purchase it.
These skills can then transfer to other courses, such as entrepreneurship, retailing, or marketing.
Why?
Our students (and some teachers) will be happy TikTok is here to stay.
However, I believe Bytedance, TikTok's parent company, is the real winner of the proposed "partnership."
The final structure of this deal will be an opportunity for teachers to talk about what is more valuable - US operations of TikTok or the technology behind it.
Buying TikTok without the algorithm information could be the beginning of the end of Oracle's vision of TikTok. That is arguably the most important aspect of the platform. Unless Oracle can replicate it, users may turn to competition like Reels or the newly announced YouTube Shorts.
Discussion Points
What do you believe is more important, holding US operations of TikTok or the algorithm behind it?

Do you believe TikTok would be run better by Oracle or Microsoft? Why?

How will more competition impact TikTok in the US? Will more users switch to platforms that they're more familiar with?
Assignment Idea
If TikTok is here to stay, I think this would be a great time for students to analyze the alternatives to it.
By comparing TikTok to Reels, Shorts and Triller, our students can get an idea of which platforms offer a better experience for users.
Although TikTok may have immediate momentum, major changes to the algorithm could affect it more than the users currently think.
Why?
Pepsi releasing Driftwell is a great case study for entrepreneurship students.
Pepsi identified a problem and is attempting to solve it. That is the exact roadmap many entrepreneurs face when coming up with ideas.
Although it may not be the first product of its kind, I like how Pepsi considered many factors with their product.
My favourite:
The drink comes in 7.5-ounce mini cans and just one flavor: blackberry lavender. According to Silver, it's the perfect size for hydrating before bedtime without requiring another trip to the bathroom.
Discussion Points
How can Pepsi successfully release and market a product that doesn't align with their current product offerings?

Is Pepsi solving a problem, or is the sleep-aid market already too saturated?

How else could Pepsi increase its market share in the sleep-aid industry?
Assignment Idea
Pepsi, as a beverage company, is using what it knows but is entering a different market.
Have students brainstorm and pitch something similar to another company.
My instructions are to have students keep the company operating in the same industry it currently does (like Pepsi and beverages) but to come up with a product idea that is different from their current offerings.
This is a good resource to teach your students about creating a business pitch.
Once completed, you can choose to have them present to the class or record an audio/video clip for private or class-wide viewing.
Why?
Josh Spector's explanation of the three elements every creator needs in their system is excellent for students looking to build an online platform or sell a product.
In fact, this quote from the article will become a staple on my whiteboard.
Your career depends on your ability to build a system.

Because a lack of a system leads to random acts of creation and promotion, which leads to…not much of anything.
I've used this system for my own use, but have yet to break through into the monetization mechanism.
My experiences give me a source to teach my students strategies to build their own platforms online. I encourage you to do the same as they'll engage with real-life examples better than an online source.
Discussion Points
Which of the three elements is most important?

Why should everyone look to monetize what they share?

Are there any shortcuts to discovery or connections?
Assignment Idea
To give students the backbone for creation, encourage them to create a plan for the three elements of this system.
Josh gives a great example of how he uses it in the above link. When I approach this with my students, I show them how I use my Twitter account, Facebook groups, and my newsletter to develop connections through followers and subscribers.
I also let them give me suggestions on how I could eventually monetize what I share.
Many of our students have great ideas that could earn them money. Systems like this will give them a roadmap to make it happen.
---
If you find value in these articles and think other educators can benefit from it, please consider sharing it.
Take care! Until next week,
Sean