Teach Business Today #6
COVID's impact, retail collabs, and social media boycotts
Greetings from the second last day of the school year in Manitoba.
It has been a bittersweet week for me.
I am in the process of preparing my classroom for next year for whatever reality we will walk into. Regardless of whether we are physically or virtually present, I am grateful to be able to connect with students again.
We also said goodbye to our grads this past week. We ran a physical convocation where students received their diplomas from family members. It was the first time I've seen many of them in person in 3 months. Although I am sad to see them go, I am excited to see them move onto the next stages of their life.
Let's get into the good stuff.
---
The Best Business Education Takeaways This Week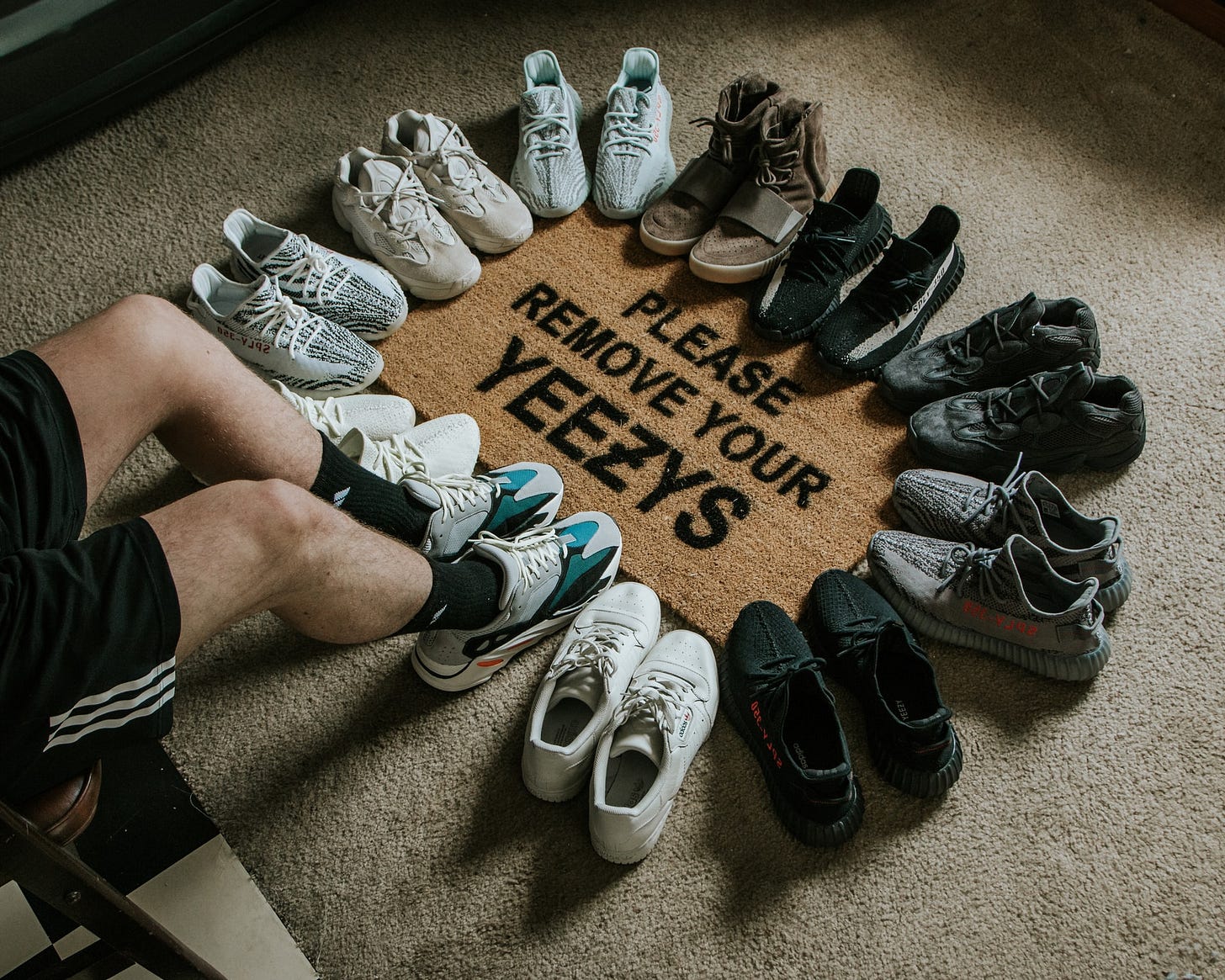 Who saw this one coming?
Kanye West's Yeezy line signing a long-term partnership with his teenage employer Gap, who has shown recent struggles to connect with consumers, maybe the lifeline the company needs to thrive.
Yeezy is a very profitable and popular brand in its own right, generating 1.3 billion USD in sales in 2019. Combining the hype behind Yeezy with the brand recognition of Gap could lead to a huge boost for all involved.
It'll be interesting to see how this partnership plays out until the first projected release in early 2021. Many of my students love the Yeezy line, but many of its pieces are unaffordable.
However, we could all see the Yeezy line become more prevalent in our culture.
Discussion points:
What are the benefits for both companies by going into this partnership?

Why did Yeezy choose a company like Gap instead of a high-end retailer? Why not a budget retailer?

Are students more or less likely to buy Yeezy items from Gap if they are now more readily available?
Assignment idea:
Have students come up with another partnership between a popular streetwear brand and a major retailer. The assignment can include a promotional logo and design pieces that include major design features of both.
Students can then identify the target market of the partnership and discuss why the partnership will be good for all parties involved.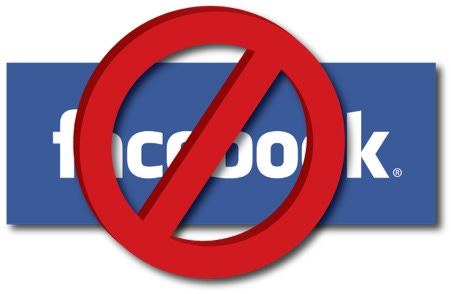 Starbucks has joined other major retailers in their Facebook boycott by pausing all social media advertising on the platform.
Facebook, alongside other social media platforms like Twitter and Instagram, has been under fire for its failure to stop the spread of hate speech online.
Companies are starting to hit them where it hurts the most…their profits.
I imagine Facebook will find a way to rectify their mistakes quickly to try to bring these companies back. However, the damage may be too large to fix completely.
If the companies who have pulled their social media advertising continue to see growth in sales due to their actions, why should they rush to return to these platforms?
Discussion points:
If these companies do continue to see profits, what could be the major changes in advertising in the future?

What ways can Facebook, Instagram, and Twitter fix this issue?

How impactful will this be on Facebook, Instagram, and Twitter? Are there different ways these companies can shift their focus to continue to earn profits?

Do a deep dive into the #StopHateForProfit hashtag and see what students find interesting to drive a student-lead discussion.
Assignment idea:
Have students do an analysis on the profit Facebook, Instagram, and Twitter make strictly from advertising. Additionally, have them look at the individual amounts each of these companies invests into these platforms (if this is unavailable, have them look for estimated amounts).
Students can then develop a PR campaign for Facebook/Instagram/Twitter to fix the issue on their platform plus earn back the respect of the companies listed above. Have other students evaluate and question each student or group on the effectiveness of their campaigns.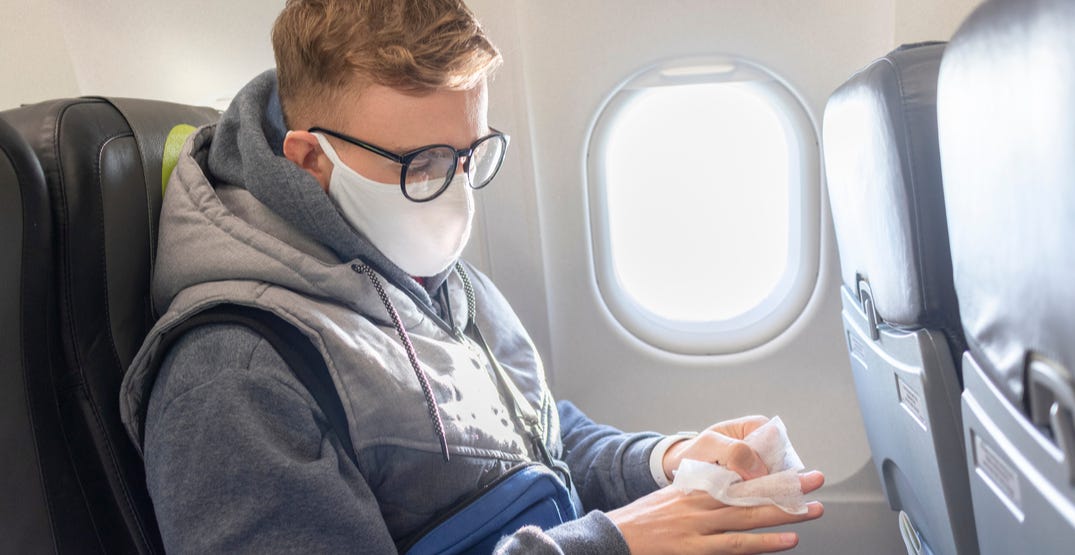 This could be bad.
Air Canada and WestJet plan to go hand-in-hand with American Airlines to lift major travel restrictions starting July 1.
Although physical distancing is still one of the major factors in stopping the spread of COVID-19, airlines believe they can operate at full capacity without issue.
Major checks and cleaning procedures will give travellers more peace of mind, but many will still be in a state of worry.
I don't believe this will cause the airline industry to rebound quickly. Tourism has seen a drastic drop already in 2020, and I don't see that changing regardless of new airline policies.
My province still has major travel restrictions even within Canada. If you're travelling from any Eastern province, you're required to self-quarantine for 14 days upon entering.
Why bother travelling if you cannot do anything in your first 2 weeks?
Discussion points:
Do you think airlines should put profits over potential health risks?

What are the potential long-term implications (both positive and negative) of this move?

How important is travel to you? Now that there are more air travel opportunities, do you have any desire to use it? Why or why not?

Will this lead to an increase in tourism, or will people use it as a means to travel to places with less active COVID-19 cases? What impact can that have on places, such as Manitoba or the Canadian territories?
Assignment idea:
Have students research airline profits pre COVID-19, during the major first wave of COVID-19 in North America, and their profits after this change.
A secondary piece could be having students look up COVID-19 cases or outbreaks that potentially began from airline travel specifically.
With this information, students can identify whether or not this was a good business idea and rationalize their thinking.
This would be perfect for the fall, as it will give us time to see the impact of this decision on the above-mentioned categories.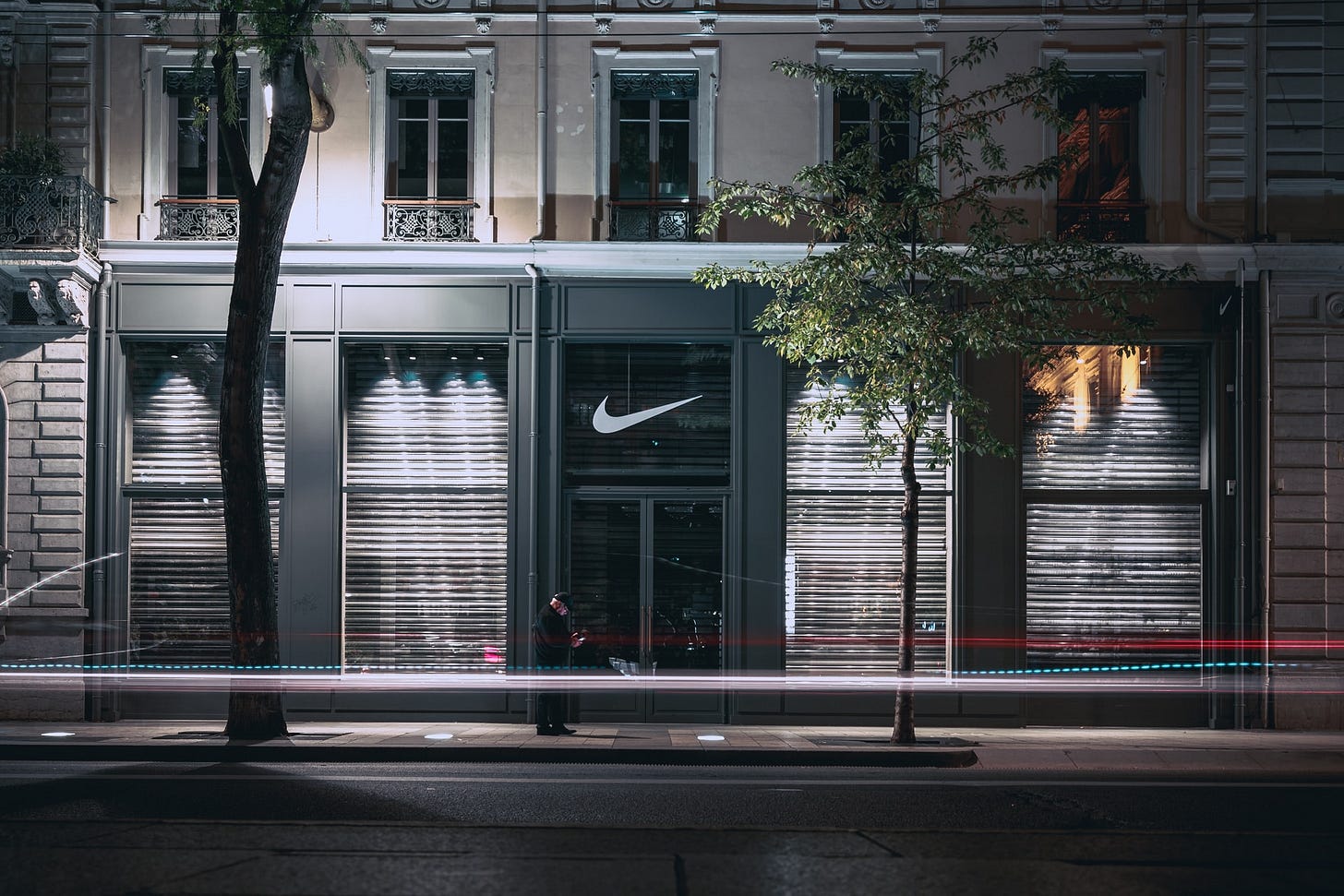 Nike, a company that puts a large focus on selling in physical stores, is now shifting to a stronger online model.
This seems like a late move as many retailers have already shifted more resources to their e-commerce offerings. Although, it's better to do it late than to not do it at all.
a $790 million quarterly net loss is nothing to scoff at. Moves have to be made if they plan to continue to be the leader in the footwear industry.
Brick-and-mortar retail is slowly starting to trickle back. However, many consumers have shifted their spending online and may continue to do so out of convenience or comfort.
It seems like the appropriate time for Nike to put more emphasis on that part of their business.
Discussion points:
Why would Nike wait so long to make this shift?

Do you believe aiming for an increase of 20% of overall business in online sales will be a saving grace for Nike?

What are the positives and negatives of buying shoes online? Do you believe more consumers will buy Nike shoes online or simply wait for retail stores to reopen?

In what ways can Nike make it easier for consumers to buy directly from online sources?
Assignment idea:
Students can develop a digital marketing campaign to boost their online sales. Have each student come up with a unique approach to convince consumers who would normally buy shoes physically to try buying them online.
There should be an emphasis on a specific Nike model, target market, and answering specific customer questioning such as returns if the shoe doesn't fit.
If you want to make it more challenging, have them do it in a way that doesn't utilize social media based on the above article.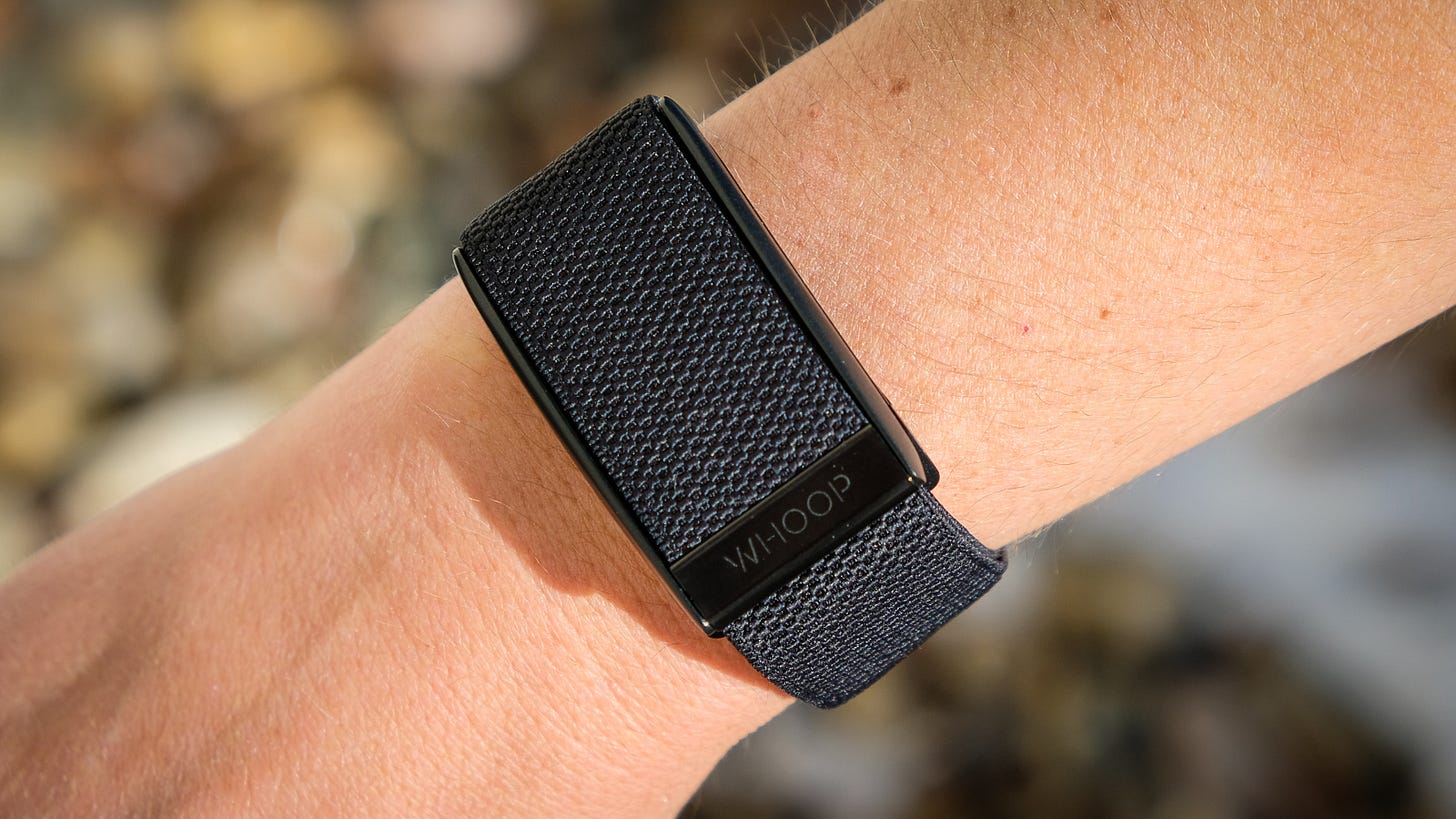 Nick Watney may be the poster boy in a huge boost of sales for Whoop, a wearable fitness tracking strap.
Watney's ability to see a spike in his resting respiratory rate allowed him to find out he was positive for COVID-19 much earlier than most.
Now, Whoop is being provided to over 1000 PGA players and staffers. Other sports could soon follow.
Wearable technology is nothing new. However, being able to say that your technology has the ability to identify COVID-19 before symptom onset will give you a huge boost in market share.
It'll be interesting to see how Whoop performs after this.
Discussion points:
Do you believe all athletes should be required to wear technology like the Whoop strap? Why or why not?

Should Whoop make this a primary marketing piece? What happens if people buy it but develop COVID-19 symptoms without the strap identifying it beforehand?

Is it ethical to try to make money using COVID-19 prevention as a marketing tactic?
Assignment idea:
Have students design their own fitness tracking device and develop an advertising piece behind it. The device should include the key features they believe should be included.
Students can research existing devices, such as Whoop, Apple Watch, Fitbit, or Garmin and look at the features and benefits of each.
Things students should keep in mind are practicality, design, software, and usability.
The advertising piece can push the student's creativity. I usually give mine options for video, graphic, or auditory when developing their advertising.
---
Thought of the Week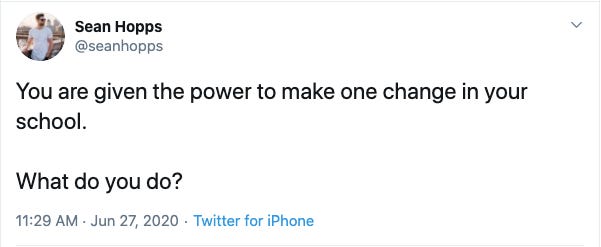 There have been some really cool ideas presented by other teachers already. If you want to engage in the discussion, you can do so here.
---
If you've made it this far, thank you. If you skipped right to the end, thank you anyway!
Please leave a comment or send me an email at sean@seanhopps.com with any feedback or ideas you have for me.
If you're looking to connect further, feel free to give me a follow and send me a message on Twitter, LinkedIn, or my website.
Take care! Until next week,
Sean