Teach Business Today #8
A deep-dive into entrepreneurship
How young is "too young?"
How old is "too old?"
The answers are situational. But what is the answer for entrepreneurship?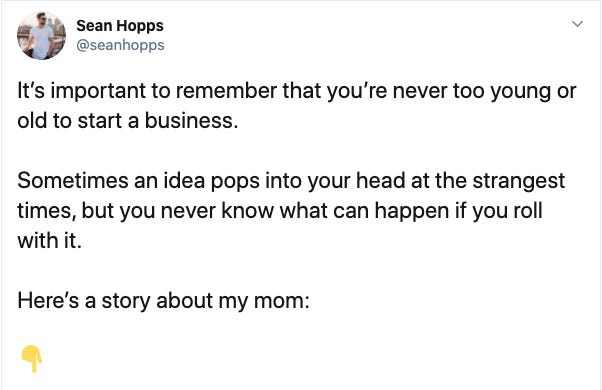 If you're interested in reading the story, click the tweet above and let me know your thoughts.
Perhaps you can find some inspiration from my mom, or use it as a case study for your students.
Now, onto this week's takeaways.
---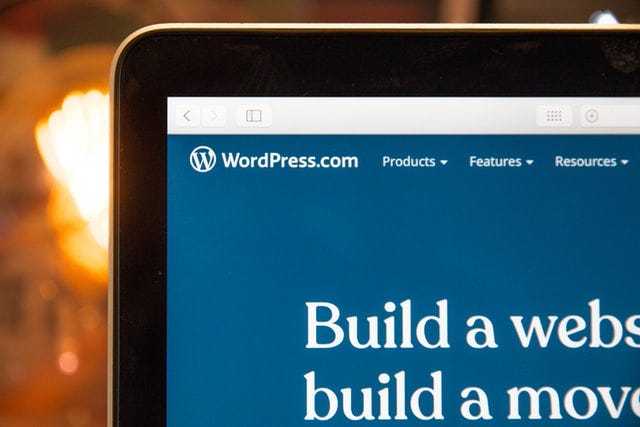 WordPress is my favourite CMS tool. I've used its open-source software for my personal website and encourage my students to use it as well.
Matt Mullenweg was ahead of his time when starting Automattic. The ability to create the largest website creation tool on the internet while never meeting in a physical location is unbelievable.
There's a lot of inspiration in this article for yourself or your students. Whether you've dreamed of starting a business or building your personal brand, it's now possible to scale that through the use of remote virtual assistants or employees.
Discussion Points:
What do you believe is better: hiring employees who you've interviewed face-to-face or hiring a virtual employee who you've never met? What if you can pay them based on their home countries wages?

Why do you think companies would use a cost-of-living pay adjustment depending on the location of their employee? Do you believe that employees should make more money because they live in a more expensive location?

How would productivity be impacted by working remotely versus in an office environment?

Are offices a thing of the past, or will they make a resurgence once the COVID-19 pandemic is over?
---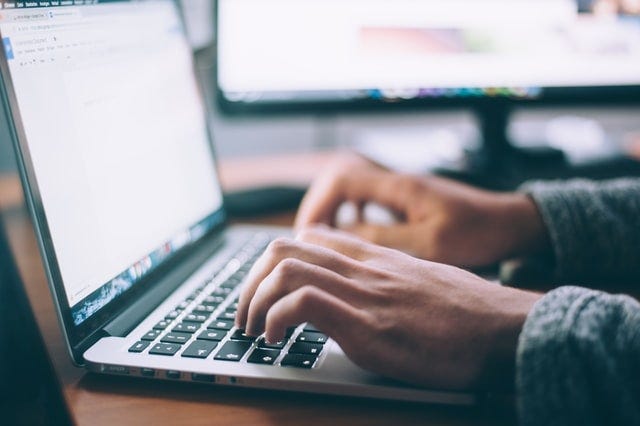 This Twitter thread by David Perell is interesting from a number of perspectives.
I believe that our education system is lagging behind the advancement of technology and the internet. A teacher's role is no longer about supplying information, but to facilitate and motivate.
Students have the ability to learn anything they want for free on the internet. If they don't see value in what you're teaching, they won't learn it.
But if they find something that they love, they'll engage with it in whatever medium is available.
Are there certain units or subjects you enjoy teaching more than others? Do you see them as providing more value or engagement to students?
I encourage you to stay in front of the potential online education movement and try to build a course around it.
The course can be for your students, but can you imagine facilitating it to a global audience who chooses to be there?
Discussion Points:
Do you believe a shift to course-based online education would be better or worse as a school choice?

What skills would teachers need to develop to become excellent online educators? How would they compare to current Youtubers or podcasters that you follow?

Would a large community of like-minded people motivate you more than small class sizes with people of varying interest levels?
---

Gumroad is a cool platform. It has made it easy for anyone to create a product and start selling it online, whether it is physical or digital.
I've seen a lot of Gumroad promoters on Twitter in different niches, including education. Many teachers are using Gumroad to sell lessons and unit plans, assignments, and projects.
Not only do you have an opportunity to maximize your earnings on Gumroad, but so do your students.
It's common for students to think of physical goods to create and sell in an entrepreneurship class. But why can't an individual or group create and sell a digital product?
It would be difficult to sell that type of product to the student body, but why should they limit themselves to just students in their school? Or members of their community?
Discussion Points:
Do you think it's better to create a physical or digital product?

COVID-19 has impacted the retail sector drastically. However, Gumroad has seen growth since people started quarantining and working from home. Why do you believe that is the case?

What types of digital products can students create that would be successful on a platform like Gumroad?

How could you effectively drive people to your Gumroad products to generate sales?
---

I jumped on the blogging bandwagon a couple of years ago with a dream of making a hefty side income through affiliate marketing, advertising, and product sales.
The hardest part was reaching my target market and driving them back to the site. Instead, I decided to find opportunities to get the content straight to them.
Substack (which I use to send these newsletters out) is another platform that is gaining a ton of momentum with an ability for its creators to earn money writing.
I encourage you and your students to look at writing as an income-generating tool.
Do you have a passion for something? Start writing about it and reach the people who are into that as well.
Maybe you or your students can turn those readers into subscribers and start earning money doing something you enjoy.
Discussion Points:
What would a newsletter have to offer you for you to pay for a subscription?

Why do so many people subscribe to online publications, like the Washington Post or New York Times? Do you believe individual newsletters can accomplish the same feats?

What are some things that students can write about in a newsletter that other students would pay for? What about adults?
---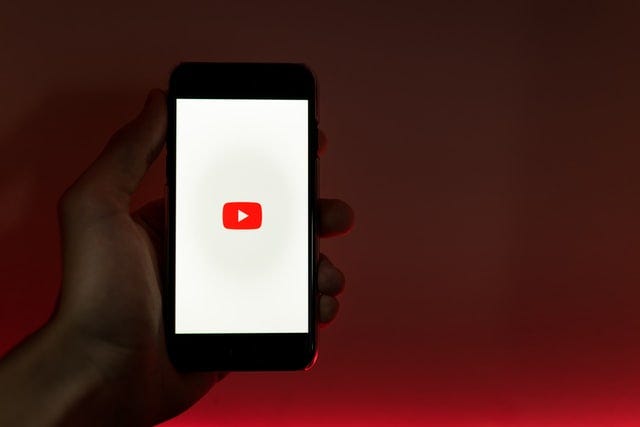 To cap it off, I wanted to share an example of a teacher who was able to turn a side hustle into a full-time income.
Gabby Wallace has grown her Youtube channel to unbelievable heights doing something she loved…teaching English as a second language.
The subject areas you teach have a market for them outside of your classroom. What is stopping you from taking advantage of Youtube or other means discussed in this newsletter to share it with the masses?
There is a chance a lot of people will discover your content. Especially when you're posting it on the second most popular search engine on the internet.
Take the journey into video with your students. Have them create around their passions while you do the same with your subject areas.
Discussion Points:
What advantages/disadvantages do students have on Youtube compared to adults?

What have other teenagers done on Youtube that made them successful? What contributed to that success?

What skills require you to become successful on Youtube? How can you develop those skills?
---
Assignment Idea
Students can take a multi-step approach to develop a personal or professional brand using information from the articles shared this week.
The approach that I plan to use with my students when going through these topics is:
Have students identify what they want to focus on - a personal or professional brand.

Have students develop a preliminary website using WordPress (or other CMS) around that brand. This is where their creativity can flow. I give my students complete freedom to decide how they want it to look and what will be included. There are a ton of great resources online for this, but I like these for personal and professional sites.

Start planning for teachable content. This is where students can choose a medium and focus that they prefer. If students like writing, maybe a newsletter or digital guide can be their focus. If they're an entertainer, maybe Youtube is the right choice. Regardless, encourage them to try to make it content that provides value to their audience.

Create content. Students have fun with this, especially if you don't force a certain type on them.

Developing an outsourcing plan. This is great to show students that there are opportunities for them to get others to complete the necessary tasks for them. This can include having others write content for a website or newsletter, edit videos or podcasts, or do marketing for the content. They'll be surprised how affordable this can be.

Market content to drive traffic (optional). If you want to have students do the above with the purpose of trying to make sales, I would encourage you to go in-depth into marketing tactics. Have them try to drive traffic to their website, channel or products through social media marketing. They can then view their analytical information to see what does and doesn't work.
These can be broken down into mini-tasks or combined into one project-based learning tool. I plan to do the latter.
---
In Closing
I did things a bit differently this week.
What are your thoughts on focusing around one area (this week was entrepreneurship) and doing one larger assignment idea instead of mini assignments for each article?
I would appreciate your feedback. You can reach me through email, Twitter, or by leaving a comment.
Until next week,
Sean