Teach Business Today #9
Social media strategy, digital products, and community building
How long should a lesson be?
This question has been on my mind for some time. The expectation of classroom teachers is to get through the curriculum in the time given to them. This can require teachers to spend long periods of time on a topic.
When we shifted to emergency learning in March, the expectations changed.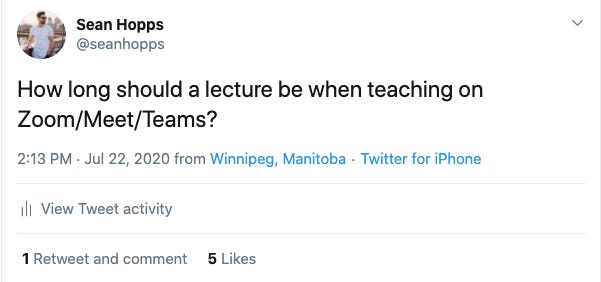 Although teachers chimed in from various age levels and specialties, one thing was consistent:
Try to stay under the 10-minute mark for direct instruction.
If that's what works for online learning, why are in-person lectures drastically longer in some learning environments? Is it time we experiment? Should we receive feedback from those sitting in front of us to see how long they think is adequate?
Click the above image or comment to chime in.
Now, onto this week's teachings:
---
Matthew Kobach recently joined the team at Fast, an e-commerce startup, as their social media strategist.
His transparency with the approach to Fast's social is a learning tool you can implement with your students. Many have difficulty shifting to a business-focused strategy for social media.
However, there's a framework being shared by the person behind the brand. This is something we don't get to see often. Take advantage of it and allow your students (and yourself) to follow along on the journey to see what works/doesn't work.
Discussion Points:
How important is building awareness of a brand before marketing the goods/services the brand offers?

How important is entertainment in building a following? Can awareness happen without using entertainment or humour?

What approaches to interacting with its followers did Matthew do well? Are there any ways he could improve upon his approach?
Assignment Idea:
Have students develop a one-week strategy approach for a fictitious brand. This should include a minimum of one interactive post per day based on their chosen platform.
The strategy approach should aim for the following metrics:
Impressions

Engagement

Relevance

Entertainment

Increased dialogue with the audience
Once students have developed their strategy, you could have them try to implement it on a platform. I plan to do this with our school store's social media accounts in the coming school year.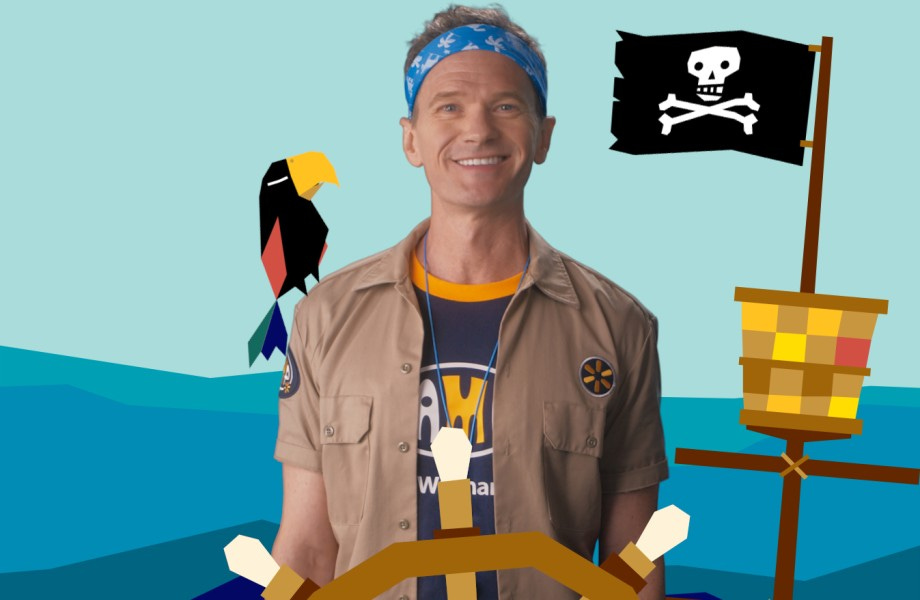 I've shared a lot of Walmart-related content in the past few weeks. This may be my favourite thing they've done recently.
Digital camps already exist but will be hard-pressed to compete against a major brand like Walmart. Especially with major celebrity involvement and no cost.
With everything going on, digital courses have gained a ton of momentum for people of all ages. Coursera has seen a 640% increase during COVID compared to the same time last year.
There's never been a better time to look at digital courses as an option for teachers. Many things you do on a daily basis could be packaged and delivered to a wider audience over the internet.
Discussion Points:
Why would Walmart offer the digital camp for free? What benefits does Walmart receive by doing this?

What benefits do the celebrities receive with their participation?

How will this impact a parent's viewpoint on Walmart? Do you think more families will choose them for back-to-school shopping or other purchases by offering things like this?
Assignment Idea:
Students can work in teams to develop a digital course around a passion or shared interest.
This will be a long-term project, but can include a ton of variety. Each group can build their course with the following:
Goals and objectives

Instructional videos

Assessments for participants

Feedback
This is a pretty in-depth assignment but will reward the students with a wealth of transferrable skills and knowledge for a new income stream. I am planning to do this with my Grade 12s, but I still need to flush it out.

The Morning Brew is one of my favourite newsletters. I use it on the daily with my business students, and it got me interested in looking at newsletter development as an income stream.
Josh Sternberg's piece on how Alex Lieberman built The Morning Brew is inspirational for all aspiring writers and entrepreneurs.
Your marketing, entrepreneurship and writing students can learn many things from this article. Tips on how to build a community, how to market a digital product, and how to write engaging content are all beneficial long-term.
Many of these can be translated into personal or professional approaches. It's just a matter of when they want to be utilized.
Discussion Points:
What makes The Morning Brew stand out from other news sources? What do you like/dislike about those?

Why would a free product spend six figures on ad spending monthly?

What can The Morning Brew do in the future to help themselves grow in a competitive industry?
Assignment Idea:
Have students sign up on Substack and create their own free newsletter.
These can be about anything they find interesting. They also don't have to be text-based. Students can record audio or video and include links with short descriptions in the newsletter they send out.
Each student will learn how to create engaging online content that is attractive to a reader. Further steps can include marketing a newsletter, conducting market research, identifying a target market, and growing a community.

Building an online business seems daunting, but there's a ton of how-to guides on the internet.
Although this is just one of them, Jack Butcher is transparent about his process and isn't afraid to show examples.
Do you have a dream of starting an online business, whether its education-related or not? Do your students?
Learning the roadmap is beneficial for when that time comes. If it's not now, it could happen in the not-so-distant future.
Discussion Points:
Is developing an income stream more or less important than building proof in the beginning? Why/why not?

How many communication channels should someone focus on? Is posting on every social media option spreading yourself too thin? Is it more important to broadcast on a wider scale or engage on a smaller scale?

Do you agree or disagree that transparency is important in a business? Should entrepreneurs be vocal in sharing their profits and sales, even in down months? Can that benefit or hinder future sales?
Assignment Idea:
This is similar to others, but I am big on creation.
As a starting point for entrepreneurship, I love getting my students to attempt to sell a created good. I typically give them a handful of supplies and let groups work on a product over a couple of hours.
Once the product is complete, I get them to pitch it and try to sell it to someone in the class.
Students learn what it takes to create something, how to sell it to another person, and some negotiation and customer relations tactics. These are all transferrable into other courses or aspects of their life.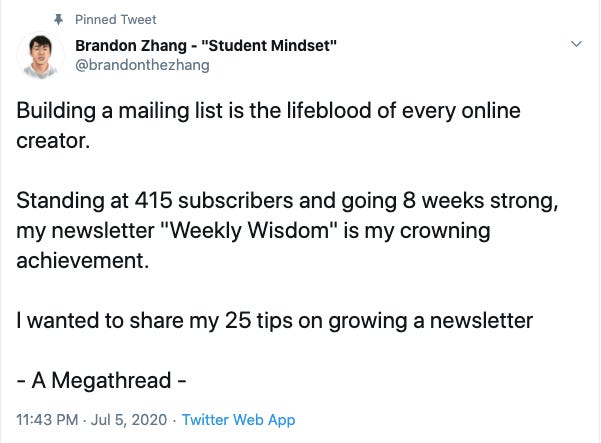 Brandon Zhang is inspirational to students as he is a student himself. His growth in the short time he's been on Twitter is astounding.
His thread of growing a newsletter is specific and to the point. It can also be applied to a variety of things students can develop.
I plan to put a stronger focus on digital entrepreneurship and marketing this year. They are trending upwards while brick-and-mortar is doing the opposite.
Sharing information like this will help motivate our students to attempt things they deemed impossible, such as the growth Brandon has seen since May.
Discussion Points:
If building a digital product is easy, why don't more people do it?

What strategies can you use to separate yourself from the crowd in your niche?

How important are niche-specific cohorts? Why do people share tips with their competitors instead of trying to keep them a secret?
Assignment Idea:
Have students curate a tweetstorm on something they are proud of.
The tweetstorm should:
Outline what it is they accomplished

Include the steps they've done to reach that accomplishment

Be engaging to the audience and encourage responses

Be done in 280 character sections (length of a tweet)
This may seem easy, but it's more challenging than you think. Creating a tweetstorm that engages with your audience has huge payoffs, but also a chance of low impressions and engagement.
---
Final Thoughts
I put out a tweet earlier this week about how I can improve this newsletter. If there's anything you'd like to see be done differently, please reach out.
If you enjoy what you read and think others can benefit from it, please consider sharing it with others.
Until next week,
Sean